Summer is coming, which means that the festival season is nearly upon us. For anyone who is a fan of music, wild costumes, and general shenanigans, the festival circuit is definitely the place to be. Where else can you see your favourite goth, rock, metal and alternative artists all in one weekend, while enjoying good food and drinks with friends and camping in some unique locations?
Here are my picks for some of the UK's best must-attend festivals in 2014:
1. Download Festival – 13th-14th June 2014
The UK's legendary, award-winning metal and hard rock festival is back for another year. Join thousands of black-clad fans for 3 days of axe-wielding mayhem with headliners like Linkin Park, Aerosmith, Rob Zombie, Opeth, Trivium and Avenged Sevenfold.
Festival Website: www.downloadfestival.co.uk
2. Bloodstock Festival – 7-10 Aug 2014
My personal favourite of all UK festivals. Bloodstock is small, intimate, and perfectly organised. There's a great mix of fantastic metal bands, and the Sophie Lancaster Stage lets some up-and-coming acts have the chance to get some sweet exposure. This year's line-up includes Down, Dimmu Borgir, Emperor, Megadeth, Amon Amarth and Saxon, among other fantastic acts.
Festival Website: www.bloodstock.uk.com
3. Weekend at the Asylum – 12-14th Oct 2014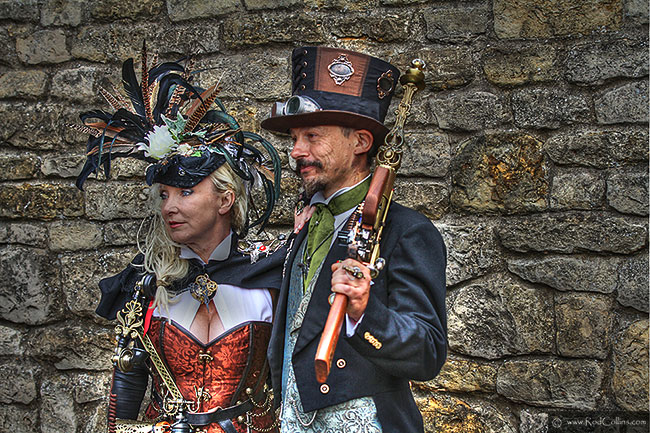 Weekend at the Asylum is the largest Steampunk event in Europe. For three glorious days the historic streets of Lincoln and thronged with splendidly dressed participants enjoying a festival combining art, literature, music, fashion, comedy and good fun. Hosted in a regency Masonic lodge, a Victorian university and a medieval castle, this festival has a great atmosphere and a huge bill of acts and events.
Festival website: http://steampunk.synthasite.com/
4. Whitby Gothic Weekend – 31 Oct-2 Nov
Founded in 1994, Whitby Gothic Weekend is a twice-yearly event inviting Goths to congregate in the small, seaside village of Whitby. Now one of the premier gothic events in the world, the event include gothic bands and DJs, markets, various events and parties throughout the village, and a Gothic Bring & Buy, where you can sell your old, unwanted clothing, with proceeds going to charities.
Festival website: www.whitbygothweekend.co.uk
5. Faerie Festival – 16th-19th May
This annual event celebrates the world of Faerie with live folk and esoteric music, dancing, workshops, a faerie market and magic everywhere. Goths and other alternatives will feel right at home at this family-friendly magikal event. Learn about sacred ceremonies with Barbara Meiklejohn-Free, or get a tarot reading from Star Tarot at the market. Acts include CoCo and the Butterfields, Wendy Rule, Damh the Bard.
Festival website: www.magicalfestivals.co.uk
6. HowTheLightGetsIn Festival, 22nd May-1st June 2014
Existential Goths will love this festival, the world's largest philosophy and music festival. This year's theme, Heresy, Truth and the Future, acts as a jumping-point for musicians, artists and philosophers to explore global economics, particle physics, and the truths of tomorrow. 500 events, 7 stages, 180 speakers over 11 days. You're going to love it.
Festival Website: http://howthelightgetsin.iai.tv/
7. Lovebox – 18th-19th July 2014
Set in London's oldest park, near Hackney in East London, Lovebox is an urban festival with an eclectic mix of DJs, rock n'roll, hip hop, indie, disco-punk, world and electronic music. Enjoy band and artist performances and sample the huge variety of international cuisine on offer. An award-winning festival that will appeal to anyone who likes to try something new.
Festival website: www.loveboxfestival.com
8. Secret Garden Party – 24-27 July 2014

Reminding one a little of a Margaret Atwood novel, the Secret Garden Party is an unbranded, independent event where everyone participates – as well as the classic festival line-up, there are parades, immersive theatre, forums, and other unique happenings. This year's theme is "Goodbye Yellow Brick Road" and headliners include Public Enemy, Little Dragon, and NZ funksters Fat Freddy's Drop.
Festival website: www.secretgardenparty.com
Which festivals will you be attending this year? Which do you recommend?