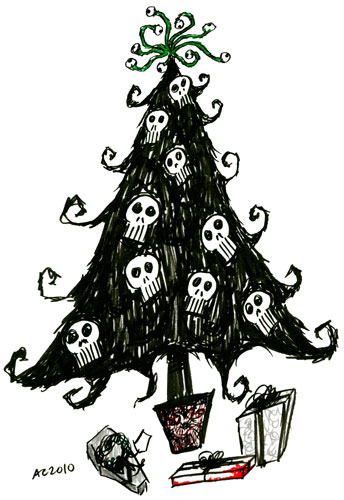 It's December, and yes, fuck that noise already. Shopping becomes something akin to The Hunger Games, everything is bright and glittery, and your nearest and dearest expect you to drop some serious dollar on random tat to show your lurveee for them on turkey day. However, on the plus side, the shops are now full of awesomely unhealthy food and of course, lots of cool potential gifts for yourself, and now is the time to start dropping some serious hints to your loved ones about what you'd like to find in your stripy stockings come the day itself.
So without further ado, let's "do" xmas, with some of my top suggestions for Gothy gifts and good things to add to your "buy me some stuff" list for 2014. If you're looking to point your clueless mates in the right direction on what to buy for you, discreetly add this blog post from Stripy Tights and Dark Delights to their bookmarks bar too.
Clothes, bitches!
There is never a bad time to increase the size of your Goth wardrobe, and if you simply can't justify the expense of what you'd really really like to own, now is the time to hit up the 'rents to make a purchase.
Point them in the direction of this velvet Spin Doctor "Jessica" dress, or try to convince them that a gift voucher is the best present ever, and truly not a sign of a lack of imagination.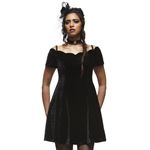 For the home
Etsy is a treasure trove of all sorts of homemade and handmade finery, as well as a hefty helping of really pointless tat and mass produced bullshit from the Far East. It does take a little digging around to uncover the true gems, but there is actually a whole section on Etsy dedicated to Goth items for decorating your bat cave, which is definitely worth a look.
If you're looking to add a dark twist to your Christmas ornamentation, check out The Everyday Goth's post from last year on making Goth ornaments too.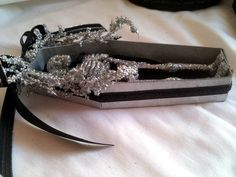 Jewellery
I have recently become aware of Alchemy, a specialist online retailer for all Goth jewellery, and their pieces are all highly distinctive and individual, as well as reasonably priced. My current favourite is this "passion" bracelet, consisting of shiny metal thorns and Swarovski crystal drops of blood. Love. It. Added to which, if you have fat little wrists like me, you can bend the bracelet to fit without breaking or misshaping it.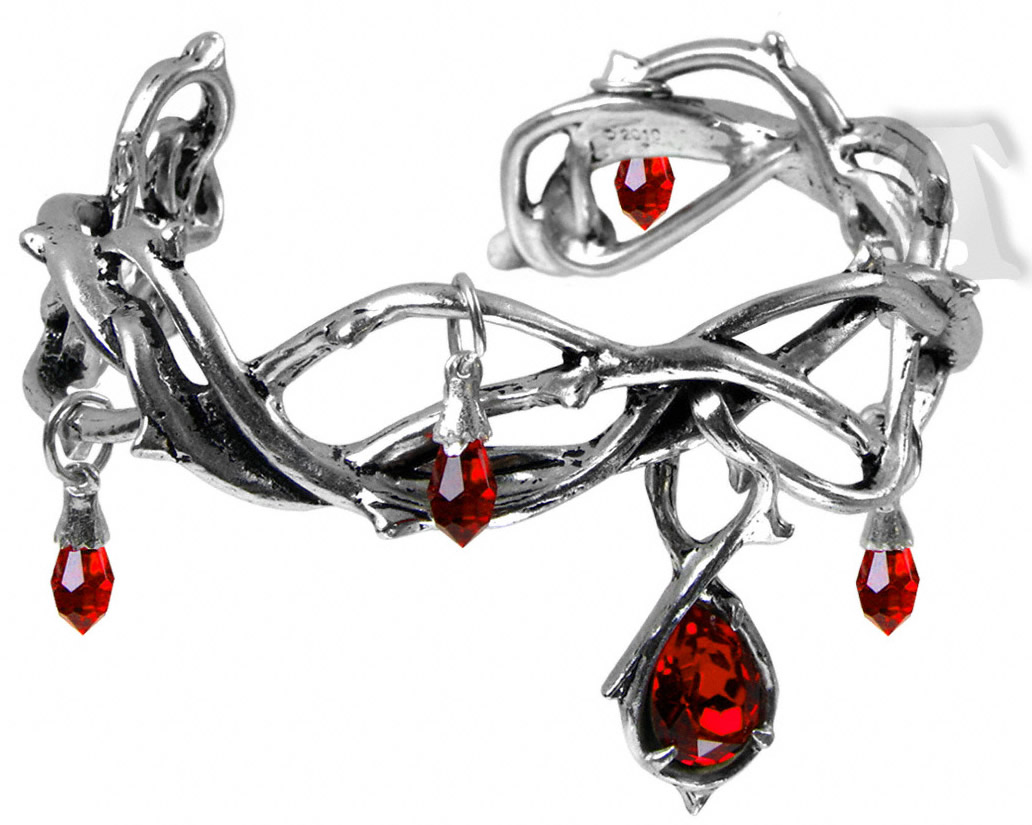 Bags
This skull and crossbones messenger bag by Demonia is my current bag of choice, and works for both men and women, so as well as being one for your own Christmas list, is a safe buy to wrap and keep on standby for if you find yourself in the awkward position of being gifted by someone you hadn't planned to buy for!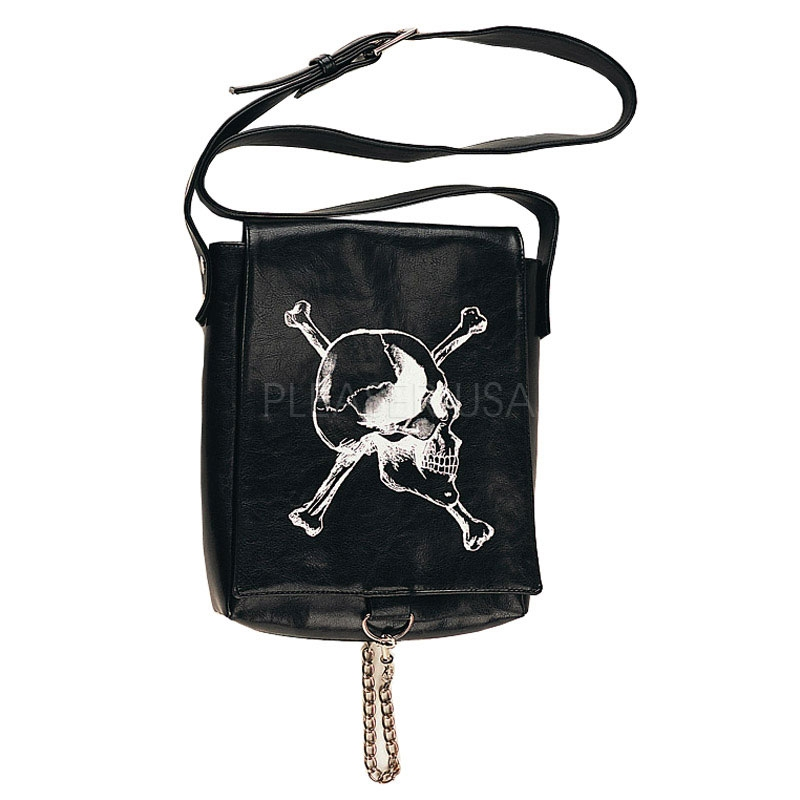 Perfume and scents
If you're anything like me, a bottle of off the shelf generic catch of the day (thanks, Elvira) just won't do, and I like to buy small batch handmade scents that are unique and somewhat dark. My current favourite is Winter Kitty by For Strange Women, and while buying perfume over the internet without trying it first can of course be hit or miss, trust me, all of the offerings in this store are freaking excellent.
Honourable mention goes to an aromatherapy spray by Frankie and Myrhh due to the name: "Spray the Bitch Away." I haven't tried it yet, but on the sheer basis of the name itself, I'm going to soon. Lotus Be Barefoot has got there ahead of me, and gives it her seal of approval.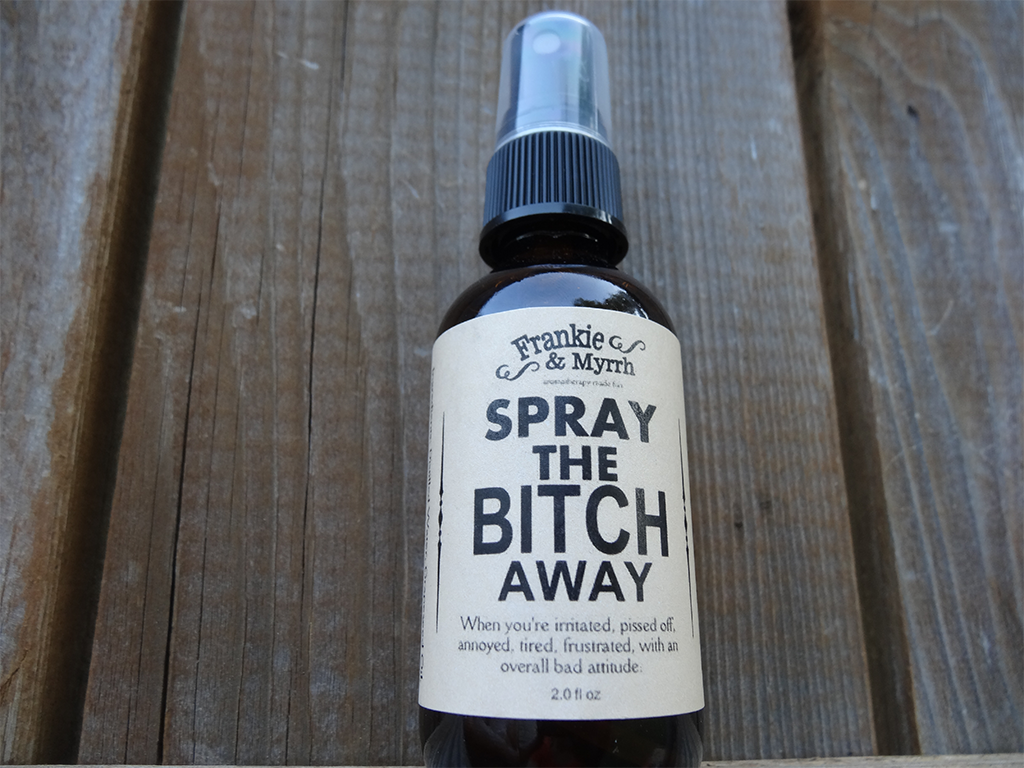 Happy shopping!