One thing I love about Goth culture is the fact that both boys and girls alike can cheerfully wear makeup without compunction, and one of the areas that allows the most creativity without a lot of hassle, and also long lasting effects, is by doing something funky with your nails.
Something else I like about nail polish is the fact that it doesn't matter if your art skills are truly shit, because even if you miss your nails entirely, it's easy to tidy up any painted bits of skin, or wash your hands when your nails are dry and pick off any stray bits.
Classic black is of course an easy five minute look to pull off for your nails, and these days, finding black nail polish is hardly the challenge that it used to be in my yoof! However, without too much effort (or skill- trust me, I am a true shitshow where artistic talent is concerned) you can really funk up your nails, be they long or short, for an interesting and dark look that is sure to impress.
Here are my five favourite (and really easy) ways to funk up your nails, Goth-style.
A velvet manicure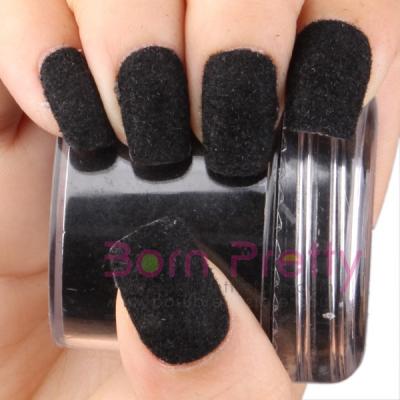 This look was truly made for Goths, and now that the world and his wife wants to experiment with nail art without the salon prices, it is really easy to find a whole range of kits and accessories to do your nails with in the average Boots or Superdrug.
This look involves painting your nails with a basecoat of normal polish, and when they are still wet, dipping or powdering them with a top coat of fibres to produce a matt, velvet-like effect. You can buy kits of polish and powder together, or mix and match at home.
Gothic Charm School is already rocking this look, so it must be worth a whirl!
Bleeding edge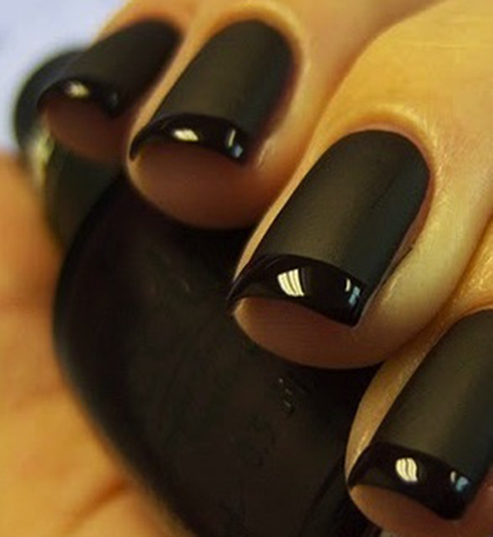 The traditional fluffy girl manicure consists of "natural" looking (I use the term in the loosest sense of the word) white tips on a pink nail bed, but there is no rule stating that you have to stick with pink and white! It's not hard to do black nails with a red tip, or vice versa, or any other colour combination that you choose, using a set of cheap sticky guide strips to separate the tip of the nail from the bed and get a clean line. There's a whole Pinterest board dedicated to colour and style suggestions for you to check out too!
Hot Mess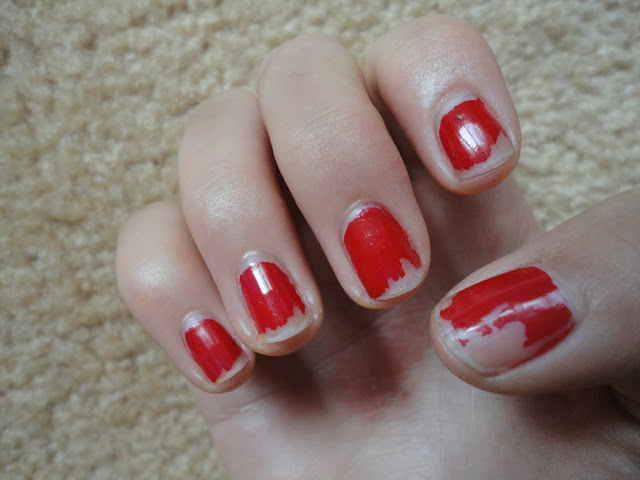 Want to look like you just plunged your talons into someone's chest and ripped out their warm, beating heart? We've got you covered. Hot mess is oh so very Goth, and also oh so very easy to do.
Plaster your nails in bright or deep red polish, and then smudge it artfully down your fingers to the first knuckle too. Chip the ends (or if you're as heavy-handed as me, just go about your normal life for a couple of hours and wait for it to happen on its own…) and you're good to go. Stripy Tights and Dark Delights has a rather neater variation on the theme too, here.
Nail transfers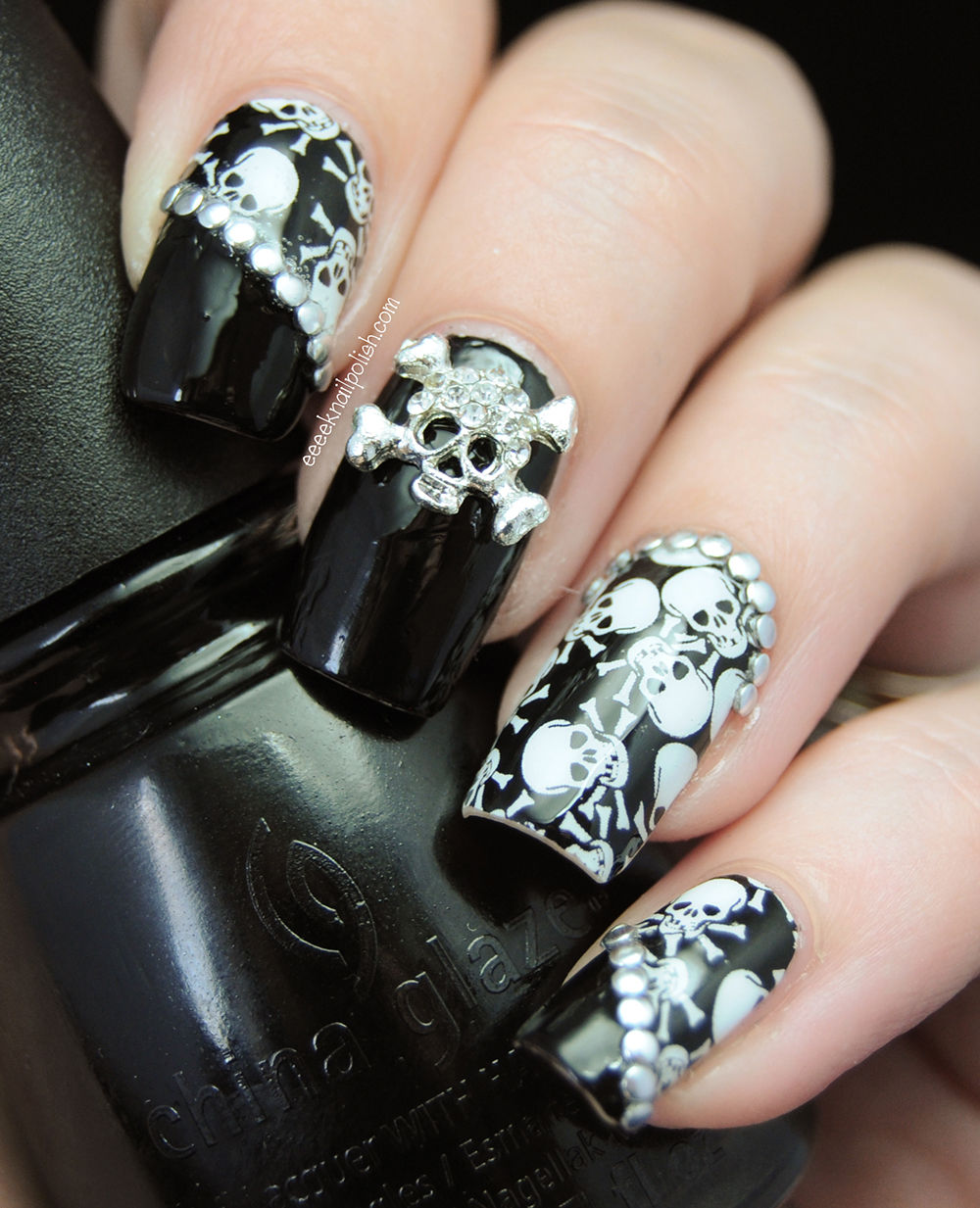 Nail transfers can be a bit fiddly to get the hang of, but seeing as you can buy designs like skulls, spider's webs and roses, they can be worth persevering with. Paint your nails in a contrasting colour that will really show off the transfer, apply them, and seal with a couple of topcoats of clear polish.
Oil on the water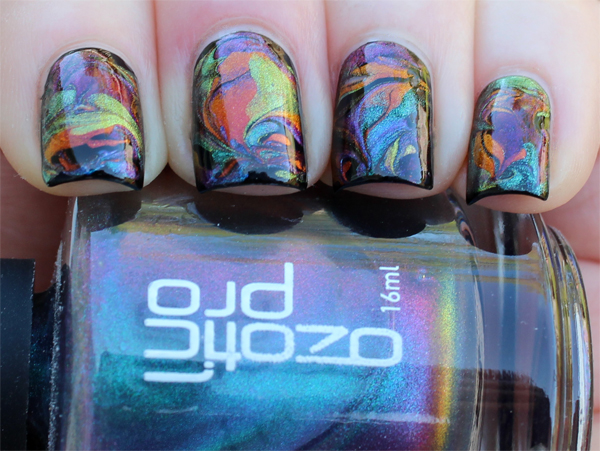 This look is one of the hardest to get right first time, but one of the funkiest and most worthwhile if you're prepared to persevere! Marble-effect or oil slick nails can be achieved by a couple of different methods, but be prepared to practice a bit in order to get the look just right.
You can do this look using stick-on foils that can be cut to shape, or if you really want to experiment, by using a range of polishes, a cocktail stick and some Vaseline to protect the skin around your nails from taking on the look too.
A good blog post that explains how to work with foils can be found here, and this YouTube video shows you step by step how to marble your nails with different coloured polishes.
Obviously these five looks are just a few of the many available, and if you are skilled and artsy, there are of course way more looks that you can experiment with too! Do you have a simple and impressive nail tutorial to share? Let me know!