As numerous gothic films and books have demonstrated, gardens can be more than just pretty blooms. The garden can be a mysterious, romantic and sometimes terrifying place. Crumbling gothic mansions are always surrounded with extensive, labyrinthine spaces, where one might find a hidden grotto or a long-forgotten grave.
Of course, you probably don't have the resources right now to design and execute your own sprawling gothic masterpiece, but you could certainly try your black fingers at a few gothic plants and flowers in pots on the windowsill or a small raised bed outside. You could even decorate your beds with wrought iron sculptures, dragons, or windchimes.
Here are five plants and herbs that are essential in any gothic garden:
Hollyhock flowers are associated with the ancient goddesses Ceres and Demeter, and the plant is a symbol of fertility and health. The ancient Greeks would wear the hollyhock flowers during the Lammas festival to ensure their crops grew in abundance. Hollyhocks were introduced to Europe from the Mediterranean in the sixteenth century, and were very popular in medieval gardens. The flowers can be dried and added to pot pourri, or steeped and drank as a pretty tea. These beautiful black hollyhocks are perfect for the gothic garden, especially grown against an old stone wall.
2. Belladonna (deadly nightshade)

Beware, belladonna is a deadly poisonous herb, and should only be grown where there is no chance a child or animal could ingest it. Connected with the planet Mars, and the Roman war goddess Ballona, the plant was often used in Roman rituals to bring about victory for the army. A pretty plant with purple flowers and purplish-black berries. Belladonna was the favourite poison of many famous people throughout history, including the Borgia family.
3. Elderberry (Black Beauty or Black Lace)
Fancy something a little bigger in your dark garden? Elderberry is a versatile shrub, often used in medieval European gardens for hedges. While this isn't a plant to grow indoors, it will look stunning in a raised bed or lining a walkway. Both these varieties have leaves so dark they are nearly black, making it perfect for the gothic garden. The berries and flowers are edible and, if you're so inclined, will make a lovely wine. And, the fairy stories say that if you stand under the elderbush on Midsummer's Eve, you'll see the King of the Fairies.
4. Rose (Black Magic, Black Jade)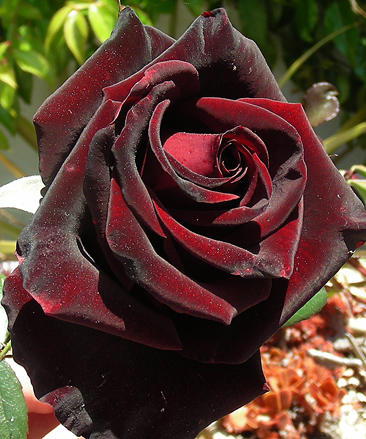 The classic gothic flower has got to be the black rose, although all "black" roses are actually a very deep red. Black roses appear in many gothic novels and films, usually symbolising death, mourning and decay.
There are several varieties of black rose you can choose from, but these two are my favourite: The black magic rose has a velvety texture and a rich, dark red hue that's almost black. Black Jade is another dark red rose with a tiny bloom – these look beautiful arranged in the house. Roses are easy to grow and will quickly transform any garden space into a romantic gothic grotto.
5. Black Calla Lily

First, a little known flower fact: black Calla Lilies are one of the few "black" flowers that are actually black. If you want a gothic flower as a focal point in your garden, you can't go past these beautiful blooms. In the Victorian period, calla lilies are associated with death. They are common at funerals, as they symbolise rebirth (and are often used in fairytales and witchcraft to cast glamour or raise the dead). The calla lily is also poisonous (so don't let your animals or kids near them!)
What flowers, plants and herbs are growing in your gothic garden?
Photos courtesy of www.ausgardener.com.au, http://archives.starbulletin.com, http://www.tomco.cn, www.thepoisongarden.co.uk and Pinterest.