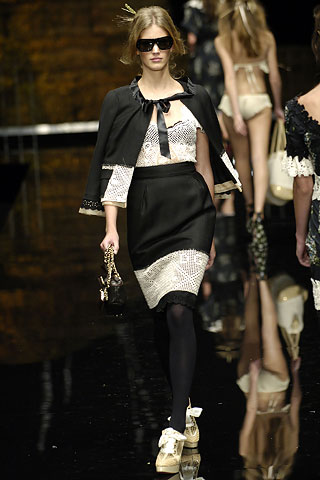 Goth fashion had a great showing at this year's Paris fashion week, with designers from Riccardo Tisci at Givenchy to Céline exhibiting some very inspiring blacks.
It may be that you are after a very 'street' punky look, in which case it's not that hard to buy appropriate gear and even distress it if you want to, but a more 'put-together' look for the suavely vampiric among us may require some inspiration and a little more thought.
Clean lines, great cuts (in cloth!) and an understated chic can be achieved, especially with a perusal of what's been on the catwalk. Highly-tailored corsetry that fits well and accentuates body shapes can give a simple outfit a very high-end appearance. Capes have also featured heavily, with Dolce and Gabbana showing sloping Gothic coats, cover-alls and swirls.
Leather can be used to great effect, although some of the alternative persuasion prefer to go for non-animal materials. This can be tricky as it is important to make sure that man-made fabrics are not produced in a way that creates a lot of toxic waste for the environment, but with cows as such a major producer of Co2, the benefits and draw-backs have to be weighed up. As a vegan, I like to go for non-animal eco products wherever possible.
Accessories such as gloves, scarves, belts and jewellery can put some spring – or should we say slope – into your goth step. Accessorising can be a great way to add punch and individuality to an outfit, with many versatile pieces available from low-cost frills and furbelows to dramatic and expensive show-stoppers.
Comment below if you have a favourite classic piece or a bargain trinket that has served you over a long period of time and is truly worth more than its weight in gold. I have a backless, black velvet vest that I've had for seventeen years and it still looks classic!