Ever since I was around 18 or so, I seem to have moved in the sort of circles that have a reasonable amount of LARP-types in them, for reasons that are still unclear to me. Both I and my BFF (Hi, Anne!) whom I have known since I was 18, have observed this, and in fact she is now married to a LARP-er (LARP-ist? LARP-ette)? Despite never having fallen victim to the bug herself.
It would be fair to say that despite my love of dressing up and looking all fancy, I've never really "got" the whole LARP thing either. That being said, the degree of crossover between LARP and Goth has been pointed out to me recently, and when it was, it hit me that it is ridiculous that this never actually occurred to me before, me being all observant and shit.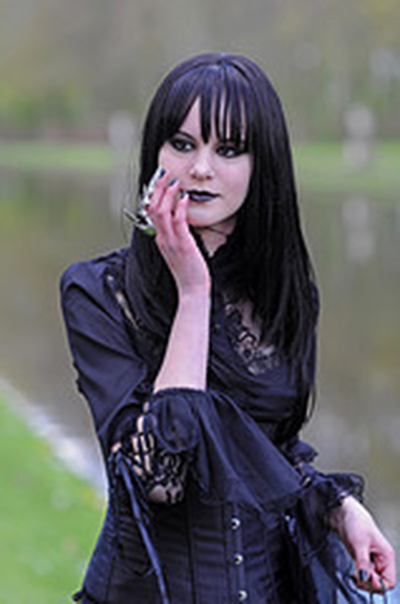 So anyhoo. LARP and Goth. Connected or not? I've tried to find out.
What is LARP?
The acronym "LARP" stands for "live action role-playing (game)," and in my very limited experience of it, involves a whole bunch of people getting dressed up in medieval costume and role-playing in a field. So in the interests of accuracy, I called up my BFF's husband, Mr. Ed Fortune (yes, that is his real name) to get the skinny on what LARP is really about, and how it crosses over, or not, with Goth culture and interests.
First of all it would be fair to say that Ed (Hi, Ed!) is highly enthusiastic about getting his LARP on, as well as being very knowledgeable about it and having been involved in the scene for longer than some of you have been alive. Despite his admission that he first started LARP-ing because he was a young Goth lad who "wanted to kiss Goth girls," he actually takes the whole thing very seriously, and was able to fill me in on the whole backstory of how Goth met LARP, mated, and reproduced.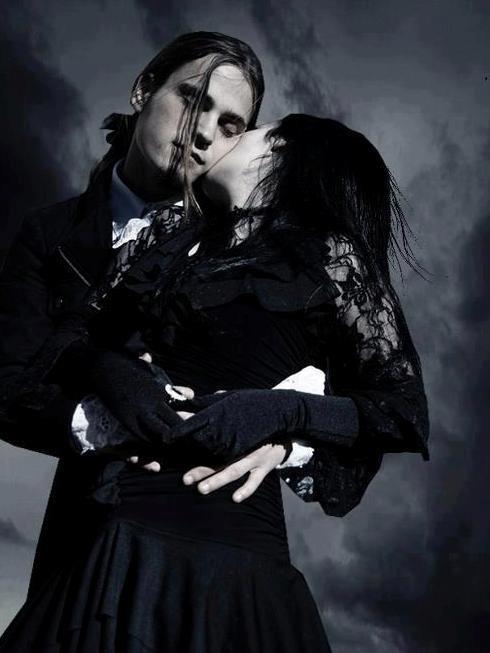 Not Ed.
Basically, LARP was ostensibly born in the 1970's, when Dungeons and Dragons became the last word in table top role-play chic. Come the 80's, groups of role-players, often connected to university clubs and organisations, would take road trips to a place called Peckforton Castle in Cheshire. Once there, they would get their stab on with weaponry that I am advised began with bamboo canes wrapped in yoga mats and gaffer taped together, and the whole thing went from there.
If you are disappointed to learn that there is apparently no obvious crossover between Mallet's Mallet, LARP and Goth, well let me tell you, so was I, my friends, so was I.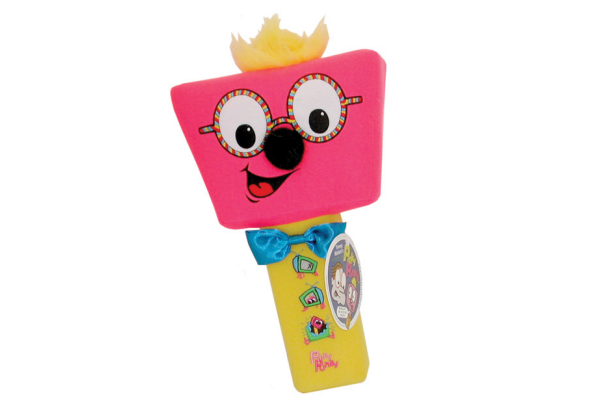 Not LARP.
It is also worth noting that during the early days of LARP, it was a very male-dominated endeavour, mainly marketed to lads, and not providing much room for the wimmens to do anything, other than possibly require rescuing from the occasional tower.
Come the hour, cometh the Goths…
Anyway. Then the 90's happened, and with them came a new LARP game, called Vampire: The Masquerade. (They have a fan site on Facebook for your delectation, BTW.) As you can imagine, baby bats all over the country suddenly sat up and took notice, as their internal radars began to get all rowdy at the mention of the V-word.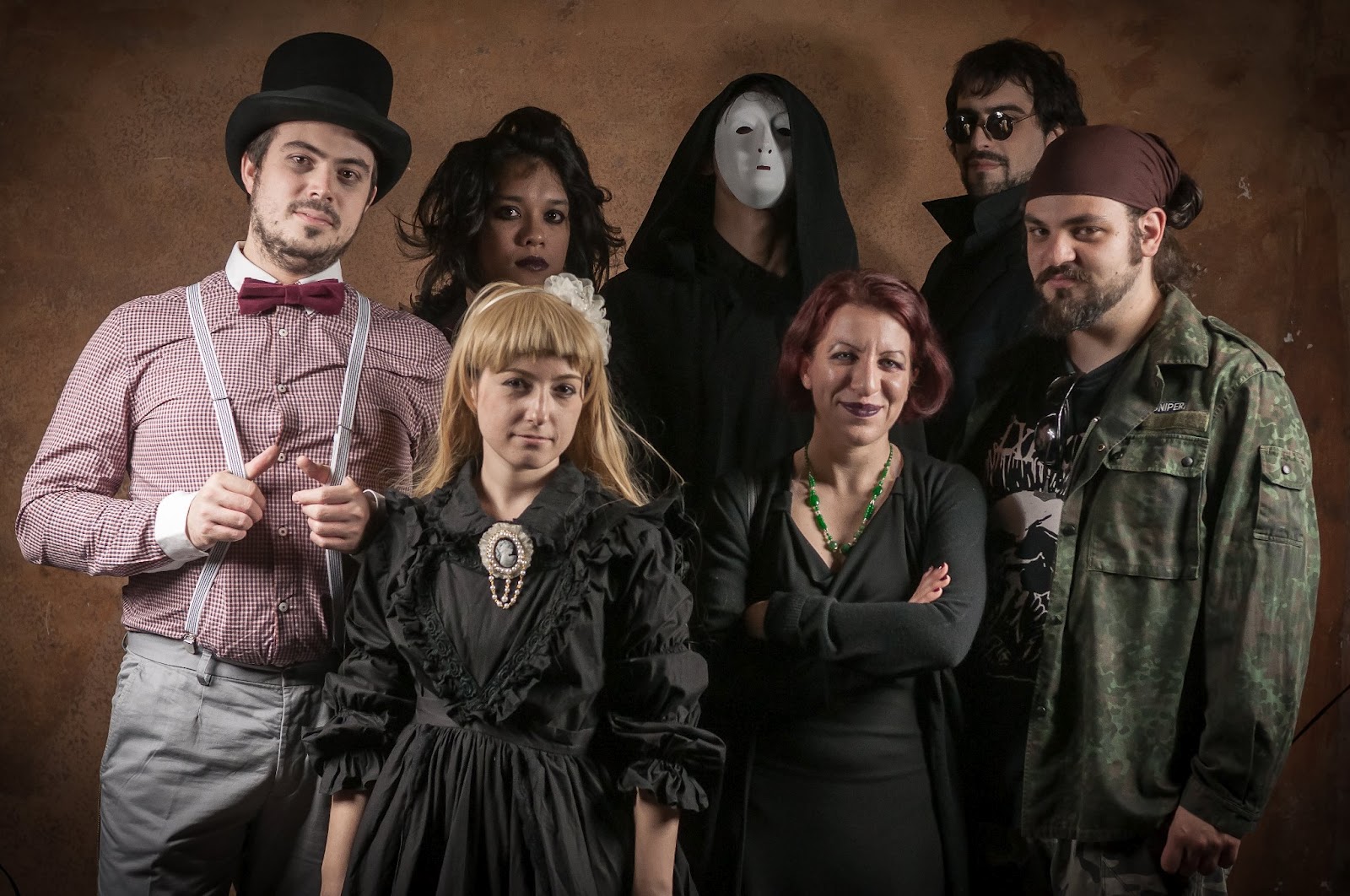 Goths of both genders then began to take an interest in LARP-ing, if they hadn't before, ostensibly so that they could dress up in Anne Rice-style duds, and if they were lucky, "kiss other Goths" (Ed). LARP became synonymous with big Goth parties, particularly vampire-related LARP, which equally delighted and pissed off various hard-core LARP-ers in equal measure. Some thought that the baby bats were kinda pissing on their cornflakes and not taking things as seriously as they should, while others were simply frankly delighted to see some women on the scene, and a bit of new blood (pun intended) of both sexes getting involved.
It is worth noting obviously that not all LARP is vampire-related; there are also ghosts, werewolves, and non-fey stuff in equal measure as well. Lots of funky outfits though, regardless.
LARP and Goth today
Once everyone chilled out about the Goth-LARP fusion and began to play nicely together, the nature of LARP itself (cool costumes, big sticks, meeting new people, role play, vampires and shit) meant that for many Goths, LARP is still a big part of their lives today.
According to Ed, the big player in terms of large-scale, professionally organised LARP events at the moment is Profound Decisions, who create games, scenarios and universes and arrange events for people to come and play in them. The largest existing vampire-themed LARP group around is these guys, and if you want to know more about the LARP-ing public's views on the best of the year in LARP, check out The UK LARP Awards.
Annoyingly, I am finding myself being sucked into the whole idea of LARP-ism just as a result of talking to Ed and writing this post, and am thinking of finding out more, purely in the interests of research, you understand.
In the interim, the above-mentioned Mr. Ed Fortune, who is also a columnist and correspondent for Starburst Magazine, is happy to take any questions you may have on Twitter. Be nice, he is married to my BFF… Unless he starting talking about kissing Goth girls in the present tense, however; in which case, feel free to kick his internet ass, and report him to me.