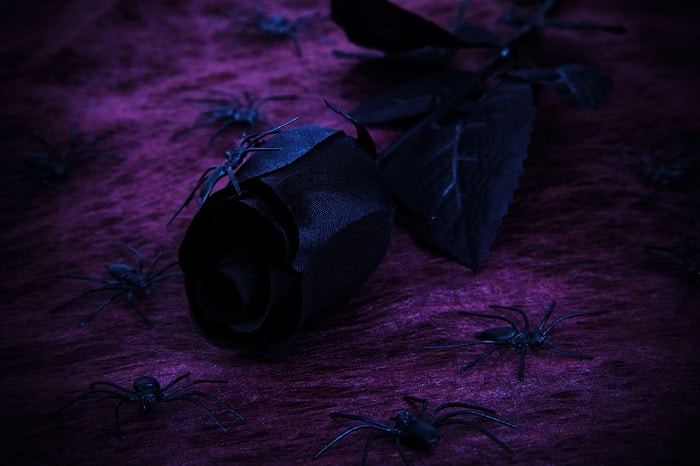 Black will always be the superior colour in gothic wear. It's the perfect shade to represent the darkness and mysticism within this unique fashion subculture. But there are no rules to say that goths can't indulge in colour every now and again, or work with flowery prints. Gothic floral has been seen on the many catwalks of Gucci, Prada, Dolce & Gabbana and McQueen for both men and women through the years. So it's not exactly a new concept to the mainstream and designer world. If you can resist the elitist ways of gothic purism and open your mind to a few non-underground pieces, there's a lot of fun to be had with floral print. Looking for inspiration? Here are 4 ways to style summer florals with your own unique gothic edge.
Layer Florals with Dark Colours
Layer up your look with dark hues to add depth to your finished outfit. Florals can be a bit one dimensional on their own, so layering will help to break up the flower power. Try teaming a floral t-shirt with a long Victorian jacket or a floral dress with fishnet tights and heavy steampunk boots. Whilst women run the risk of chintzy, men run the risk of looking like Ace Ventura. So make sure you choose muted prints that can blend seamlessly with your dark, gloomy wardrobe.
Experiment with a Floral Shirt
Bright floral prints such as those from the guys at Hawaiian Shirts Online or a tropical print shirt could be the perfect juxtaposition to your sombre sartorial style. If you dare to play around with bold colours and brave prints, make sure you style your shirt with black skinny jeans and all-black accessories to balance out the monochrome/RGB. And don't be afraid to have fun with different types of florals when shopping for the perfect shirt. From tropical flowers that scream 'vacation' and watercolour roses that are quintessentially English to the elegant effects of Hanami flower fabrics, there are so many trends to experiment with!
Discover Dark Botanicals
If you can't get on board with floral brights, why not play around with botanicals instead? This look has been a huge trend for both men and women in recent seasons, and is a much more androgynous take on classic floral prints. Big leafy designs, wild foliage, swampy greens and earthy browns define this look and it can be clashed with paisleys or animal prints for a seriously alternative vibe. Make sure you include goth inspired accessories such as leather chokers, studded shoes and bags, hairpieces and your favourite dark lipstick for the ultimate gothic twist.
Frame Florals with Texture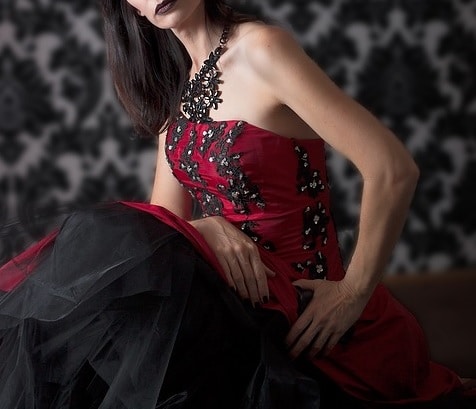 When it comes to striking the balance between summery and gothic, it's important to include layering and texture. This will help to add a whole new dimension to your outfit and mixing different fabrics such as leather, lace, velvet, velour, PVC, tulle and satin will give your all-black wardrobe so much more styling potential. The use of textures will also help to frame your choice of floral pieces, giving your look an alternative edge.