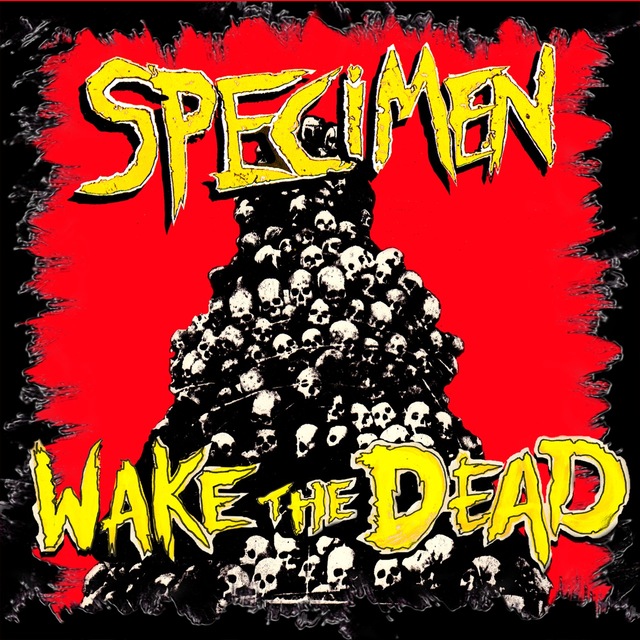 It's been an on-again, off-again 30 years, but Specimen have finally returned with a new album. Specimen's legacy as a deathrock linchpin is well documented in underground journalism and analyses, particularly the fashion sense of former keyboardist Jonny Slut. Other bands in the genre like Alien Sex Fiend and Christian Death have enjoyed more prolific careers, but the glamour and iconoclast status can never be taken away from Specimen. Wake the Dead might have been recorded by a bunch old Gothfathers, but it sounds as depraved and menacing as their 80s work.
An instantly noticeable aspect of Wake the Dead is its arena rock drama. Guitar tones, courtesy of founding member John Klein, are rife with Hollywood nightlife and rock n' roll grit, bordering on heavy metal. Drums forsake thin snare beats for rumbling, crushing pulses that provide an iron backbone for the rest of the band. Ollie Wisdom's glam-meets-Goth vocals give the eternal nod to Bowie while creeping and crawling in sleazy wails. Synths are dirty, analog, and harrowing tinges for the bulk of the riffage.
Lyrical topics in deathrock, aside from the usual blasphemy and hymns of the grave, have always had a good dosage of tongue-in-cheek to them, and Wake the Dead doesn't hesitate to delve into subjects of bondage, devilry, and sleazy love. With song titles like "Too Much Bondage (And Not Enough Discipline)," "Haunted House," and "Friends in the Dark," it should come as no surprise.
2013 has seen the return of many 80s ghouls, including even obscure acts like The March Violets and UK Decay. There is no way to be sure if this is an exciting omen of the future, but one thing is for sure, they're all in good company with Specimen's Wake the Dead.