Hi everyone – I'm Steff from SteffMetal.com. The Gothic Angel team have asked me to pop in on the blog regularly and write a few articles about life, music, books, and alt. subcultures. I thought I'd kick things off with a little look at one of my favourite pastimes – throwing tea parties, gothic style.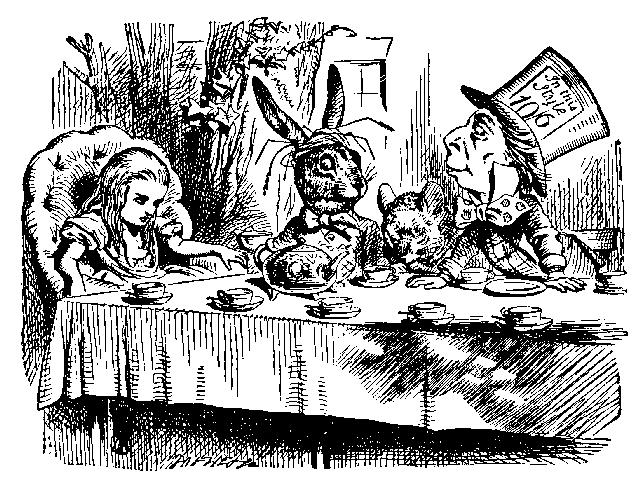 "Take some more tea," the March Hare said to Alice, very earnestly.
"I've had nothing yet," Alice replied in an offended tone, "so I can't take more."
"You mean you can't take less," said the Hatter: "it's very easy to take more than nothing."
"Nobody asked your opinion," said Alice.
No event is more quintessentially aristocratic and ripe for a bit of gothic playfulness than an old-fashioned Victorian tea party. Tea came to England and Europe in the 16th and 17th centuries through trade with the Far East, and the nobility quickly turned it into England's national drink. Anna, the Duchess of Bedford, was the first to invite friends to a tea service and taking tea with finger foods quickly became popular.
Lewis Carroll's Alice in Wonderland gave the traditional tea party a bit of an LSD twist. And, as top hats, striped stockings and madness appeal to us Goths, tea parties are a vital part of the modern Gothic lifestyle. Goths love our quirky English traditions, especially when we have an excuse to dress up and break out the fine china!
The invitations
Since the Duchess of Bedford didn't have Facebook, she had to send off handwritten invites to her guests, inviting them for tea at her home, followed by a walk in the fields. You can go traditional with a handwritten card, or simply text the details to your friends. Instruct everyone to dress in their finest gothic attire and bring a plate to share and, if possible, a selection of their favourite teas.
The table
Set up the tea table outdoors if possible. The English traditionally held their tea parties in a "Tea Garden" planted with aromatic flowers and herbs. The gothic garden, of course, might also contain a witch or fairy or two.
Set the table with your best black tablecloth, black and red napkins, candles, and your favourite china.
"Love and scandal are the best sweeteners of tea."
~Henry Fielding, Love in Several Masques
The outfits
A tea party is a great opportunity to break out your most opulent attire. For ladies, corsets are practically mandatory – I love this one. Pair with a long skirt (and bustle, if possible – or try this cool Beatrice Waistcoat from Spin Doctors with the little bustle), a cropped jacket, a top hat or fascinator, a parasol, and your favourite jewellery. These amazing Hades Oxford boots have a bit of steampunk Victorian vibe about them, and would absolutely complete the outfit.
For men, a fun waistcoat over a black shirt and pants, with a tailcoat or frockcoat and top hat. Add a monocle or a cane for a bit of fun.
The menu
Think "dainty and pretty" when choosing foods. You want pieces that can be picked up with the fingers without getting your best lace gloves all dirty. Scones and jam and cream are ESSENTIAL, and can accompany crustless cucumber sandwiches, cupcakes, biscuits, teacakes, quiches, mince pies, crackers or bread with pate, and chocolate brownie.
Check out this awesome Gothic Tea Party Pinterest for some cute and spooky food ideas.
The tea selection
"We had a kettle; we let it leak:
Our not repairing made it worse.
We haven't had any tea for a week…
The bottom is out of the Universe.
~Rudyard Kipling
While every guest will bring along their own favourite flavours for everyone to try, as the host you should also supply a couple of choices.
Check out some of the aromatic herbal brews available from Bluebird & Bonnet – including Deadwood, Wuthering Heights, Misty Mountaintop, and Delicate Darkness.
Or, for a truly gothic tea experience, check out The Moth's Closet's Grey Brews: Cerberus, Mourning Belle, Oberon, Huntsman, Wicker Man, Rasputin, and Frankenstein.
Games
Tea parties are also a great time to indulge in a few Victorian parlour games. Here are some traditional favourites:
• Look-a-Bout: You send the guests away while you hide a knickknack – like a crystal skull – somewhere in the tea party area. When your guests return, they may look for the object, and when they spot it, they don't tell anyone, but just sit down. The last person to sit down is the loser. Some guests will get really tricky and continue to mill around after they've spotted the object, so everyone gets confused.
• Charades: An absolute classic that everyone knows. Try sticking to gothic themes, like vampire films and books, band names, or Edgar Allen Poe story titles.
• The Name Game: get each guest to write the names of 5 famous people on slips of paper, and drop them in a hat. Each person then takes turns to draw out a name and the remaining players may have 20 questions to guess the identity of the person.
Have you ever hosted a gothic tea party? What are your favourite brews and recipes? Share your ideas and photos in the comments below!