Just about the only thing I like about the fact that Halloween is over for another year is the fact that the internet is now full of contenders for the dubious award of "worst Halloween costume 2014," and man was the competition fierce this year. From the hilarious to the grossly inappropriate and everything in between, 2014 really did provide a bumper haul of shittacular offerings, and for your delectation I have made it my mission to search out the worst of the worst in every category to share with you.
So, without further ado, please check out my winners (losers) for each category of Halloween moronosity below.
Category one winner: Pointlessly over-sexualised costume award
"Sexy PhD costume" from Amazon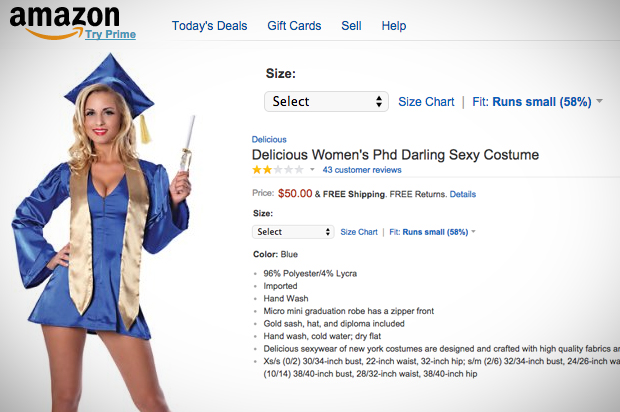 Yep, for just fifty of your hard-earned dollars, you too could have chosen to make a strong statement belittling the work ethic and achievement of female PhD graduates, while needlessly over-sexualizing yourself in the process. Because nothing says "I worked damn hard for this" like a micro-mini and heels.
Salon.com also highlights some of the reviews that this costume garnered, from actual female PhD's, and collated the best comments.
Category two winner: Horrendously inappropriate bad taste costume award

This category was among the most hotly contested this year, with serious contenders including ISIS terrorist, Ray Rice and beaten wife, and many other wholesome epics. However, the overall winner has to be the "sexy ebola nurse costume," from Brands on Sale.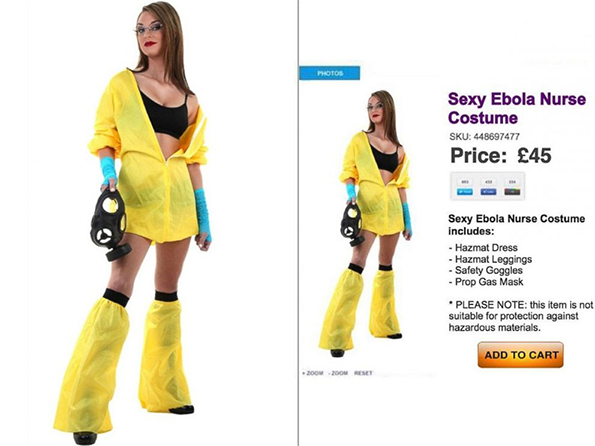 Does this really, really need any further commentary? Oh, all right then.
Category three winner: Grossest costume award

Want to ensure you never get invited back to wherever it is you went for Halloween? Get a head start on next year by investing in this costume, which literally needs no captioning, which is just as well as frankly I simply don't have any words.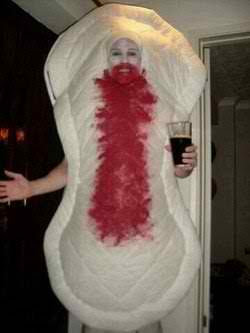 No wait, wait! I have some words. OH HELLS NO.
Category four winner: making no effort at all award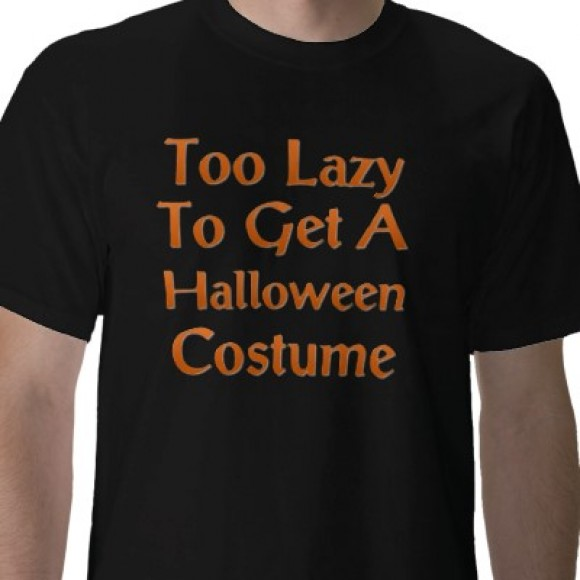 Ok fair cop, so this is a bit funny. But if you went as a Goth (unless you're not actually a Goth) or pretty much any kind of witch, you're in with a chance of at least a runner's up prize in this section.
Category five winner: "I have no idea what this is" award

One thing about Halloween costumes is that you can over-think them; there is a fine line between an incredibly subversive and clever costume, and a good dose of "dude, WTF are you?" The rule to follow is that your costume should not need any explanation; it should speak for itself in terms of what you are supposed to be. This costume does not do that.


**Edit, someone smarter (or something) than me has just pointed out that this is supposed to be "a party in my pants." Ok dude, ok.
Who won your loser awards? Share!