As y'all will know by now, I am a proper makeup/skincare junkie, and am always looking for new and exciting things on which to waste my money.
Jezebel writer Brandi Morgan Kirchgessner runs a monthly feature in which she reviews the latest beauty box releases each month, and having read these avidly since May, I finally decided I was going to give a couple of offerings a whirl. Read on for my thoughts, or check out the reviews of some much more hardcore beauty-boxers here first.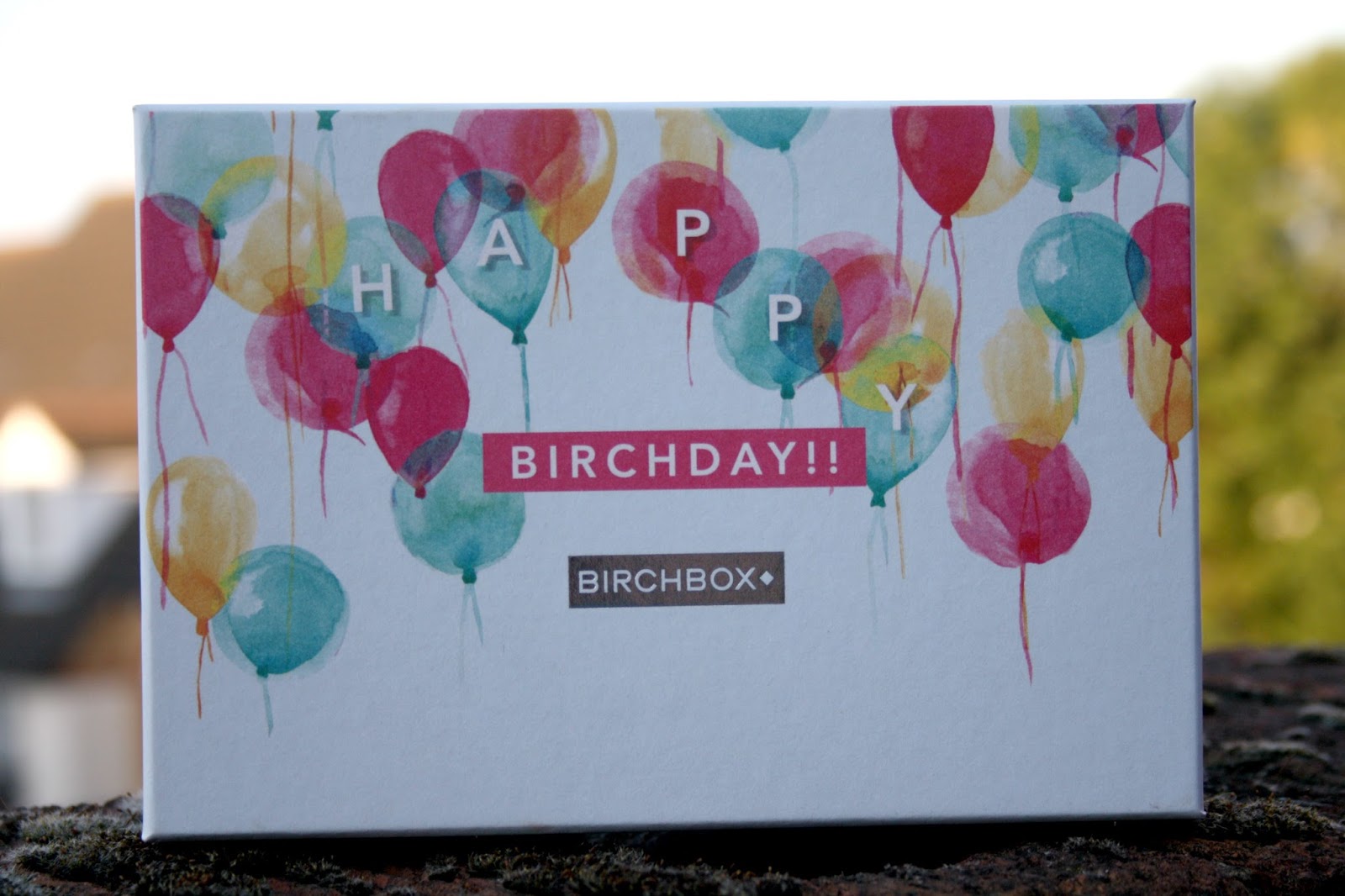 What is a beauty box subscription?
I thought that everyone knew what a beauty box subscription was, but after polling my nearest and dearest Goth girlfriends, it transpires that I was wrong.
Basically, beauty box subscriptions are offered by various different companies, and you sign up for one, choose your subscription (one-off, three month, annual etc.,) and each month, you get sent a box that contains between four and six different hair, beauty, makeup and skincare products. These are often sample sizes but generally include at least one full-sized product per month too.
The price of each company's subscription and shipping varies from case to case, but you'll be looking at around a tenner a month for the box itself, plus another £3 or so for the postage.
The monetary value of the contents of each box is always significantly higher than the cost of the box, but whether that translates to real-world value for you personally will depend on how much you like the products within it; one common complaint about beauty boxes is the sheer amount of black eyeliners that you will end up with from them after a year or so; but as a Goth girl, I say BRING IT ON.
So anyway, I signed up for the September editions of both Glossybox and Birchbox, which are the two biggest names in UK beauty box subscriptions. Each of these cost me £13-ish, including shipping.
Glossybox
I was proper excited about Glossybox, as their September box was their "style edition," containing five full-sized products. Glossybox won't publicise what is in each month's box (other than showing you one highlighted product) until it has shipped, but given that the September box was valued at £62, I thought it was well worth a punt for a tenner!
Online gossip shortly after the release soon outed what was in the box, with notable mention being made of a full-sized Nails Inc. nail varnish in either baby pink (boo) or a dark grey/khaki, which my dark little Goth heart was very much hoping to get. However, I figure that they ran out of this by the time stragglers like me signed up, because there was no nail varnish at all in my box! Behold: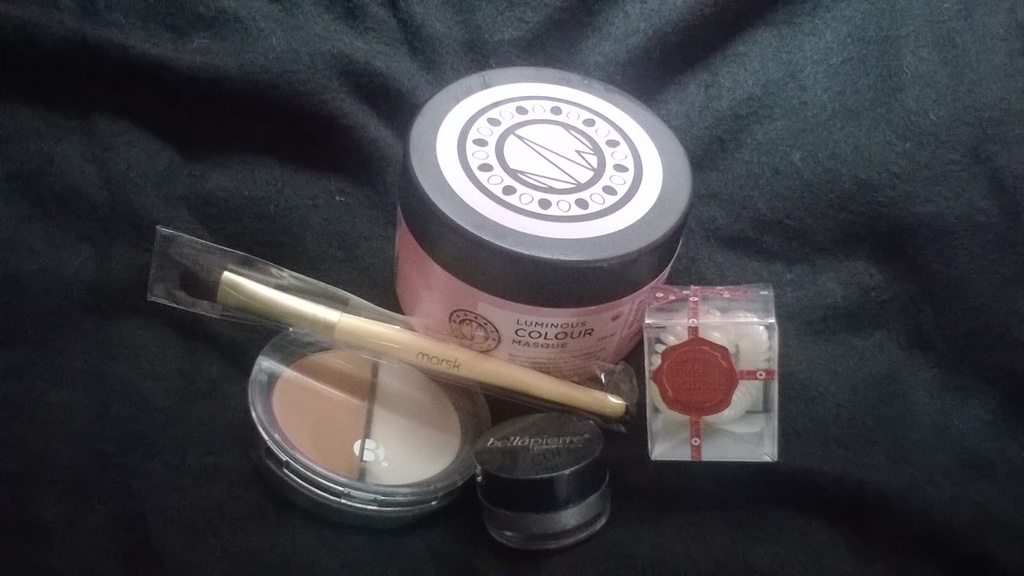 So what we have here, with the stated value of each product included is:
Maria Nila luminous colour hair masque, £18.50.
Top Shop "Invisibobble" hair bands, £4.
Marsk eyeshadow brush, £16.
Bellapierre shimmer powder in "Whesk," £12.
B Sculpted (Superdrug) contouring kit, £10.49.
First impressions: A hair masque is cool and I have used it- it made my hair soft, fluffy and sleek, but I'm not sure I'd have spent that much on it. That said, it will last me for ages, so maybe….
The Invisibobble things, I cannot see how three tiny plastic spiral things can be classed as a £4 item; I have seen the same things in the Poundshop under a different name. However, I am already getting use out of them, and they're great for holding your hair back firmly without pinching, and also, help to protect against breakage and split ends.
The eyeshadow brush is cool, I love brushes-but again, I'm not really feeling the £16 perceived value, as the bristles are synthetic.
The final two products, the contouring kit and the shimmer powder have me sitting on the fence. First of all, I mistook the contouring kit for a duo eyeshadow in two nice, safe shades that I'd be able to use for all sorts. When I found out that it was a contouring kit, my first thought was LOL, but I am actually going to have a go with it at some point, upon reflection.
However, I don't really go for heavy makeup and don't use foundation, so this is pretty much a novelty item to me. Also, over a tenner? It looks and feels chap.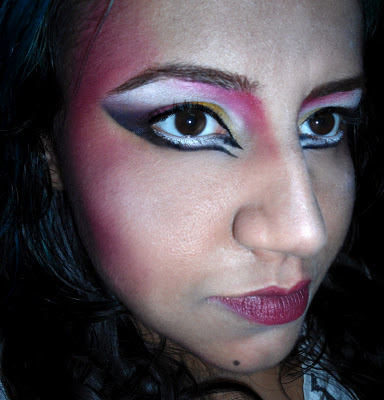 The shimmer powder is an eyeshadow, and as I have a perfectly sensible natural distrust of glitter, I was all like, NOPE. However, the online reviews of this are positive when it comes to coverage and not going everywhere, and the shade, a steely-shimmery grey is very appealing to my inner Goth make-up addict, so we will see.
Overall, I was not overwhelmed by this box; I feel that the stated prices of the products is overinflated, and that they are not really a great fit for me, despite having filled in the details asked for regarding my hair, complexion and style etc.
Birchbox
Onto number two, from Birchbox-the original beauty subscription box brand. Beauty Geek UK has also reviewed this box too, if you want a different opinion!
Birchbox is a bit more transparent about the options that go into their boxes each month, allowing you to see some of the available offerings before you buy, although you won't know exactly what you are getting until it arrives. Looking at their past boxes, the Benefit brand features heavily, and as this is one of my faves but one that rarely has anything of note for sale for sub-£20 per item, I was looking forwards to the promised Benefit "Porefessional" blotter stick.
The contents of my box: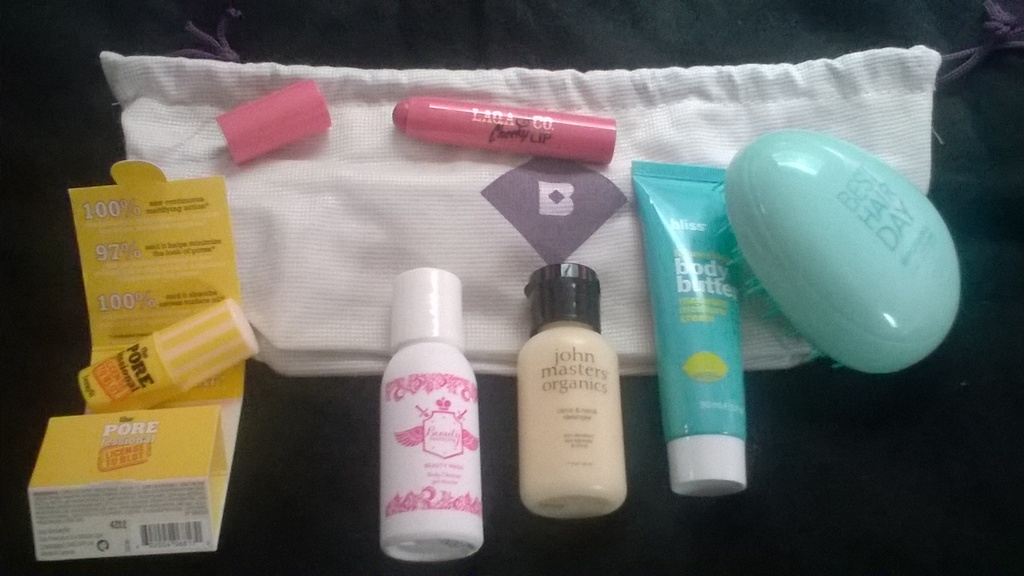 Even though four of these six (seven?) offerings were sample/miniature sizes, somehow this box excited me more than the Glossybox did. Birchbox states that this box contains five standard items and a bonus item, but it also came with that fabric bag you can see as well, which isn't mentioned-so maybe the contents comes with these every month, but either way, MOAR STUFFS.
This is what I received-the value of each item has been roughly calculated by moi, as Birchbox don't tell you the sample size values.
Fabric pouch, no value given.
Bonus item, The Birchbrush, £5.99.
Benefit Porefessional, £5.
Laqa & Co. Cheeky lip pencil in Humblebrag, £17.
Bliss lemon and sage body butter, £3.50.
John Masters Organics citrus neroli detangler, £2.
Beauty Protector body cleanser, £1.
So here we have a total approximate value of £34.50 or so.
The Birchbrush is basically a small copy of the Tangle Teaser, and while I wouldn't have bought one myself, I am already using it. The Benefit Porefessional is teeny tiny, about half the size of the average lipstick, but I would be happy to receive a box full of small, high value samples of this type as it will for sure last me some time nonetheless.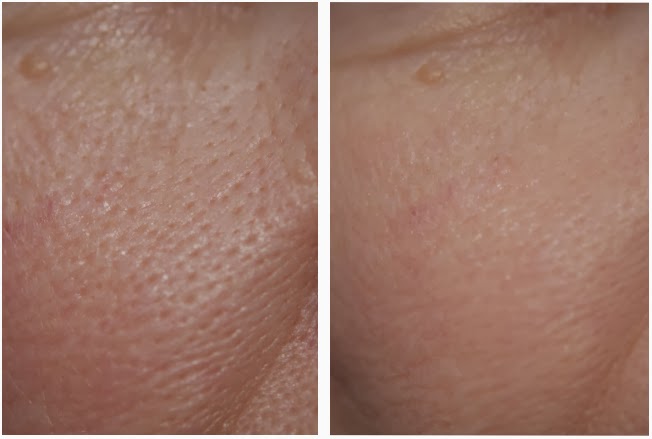 The lip pencil was full sized, and like a big crayon-the colour isn't my usual style (being neither black nor blood red…) but I had a go anyway, and found it very drying, and also, really not a good match for my skin tone, as it left my cheeks looking red and my teeth yellow. Still, Halloween is coming, I suppose.
The other teeny-tiny samples I have yet to use-I will probably keep them for travel.
Results???
Whilst the value of the Glossybox was undoubtedly significantly higher than the Birchbox, particularly if you believe their stated prices, somehow I liked the Birchbox much more.
I preferred getting a high value full size item and a reasonably sized high value sample along with smaller cheaper samples from Birchbox than I did getting a lot of full-sized items that I am lukewarm about, and that has made me question their perceptions on item prices from Glossybox, but I am going to stick with both for another month at least, just to see.
If you want to give a beauty box a whirl, links to both brands can be found above-full disclosure, by signing up via one of the links, I get "points" towards some mythical future reward with the sites.
In conclusion, if you like getting surprises in the post or want a relatively inexpensive way to treat yourself each month, you could do a lot worse for £10-£13 or so a time.
Do you get a beauty box subscription? Tell me more!