Have yourself a very Gothy Christmas… Gothing around the Christmas tree… Jingle Goth… Ok, I'll stop now. Anyway, we're well on the downhill towards Christmas, which is nice because the majority of shoppers in your town centre will be stomping around, looking fraught and miserable and generally feeling uncomfortable, which is as close to Gothing as most of them will ever come.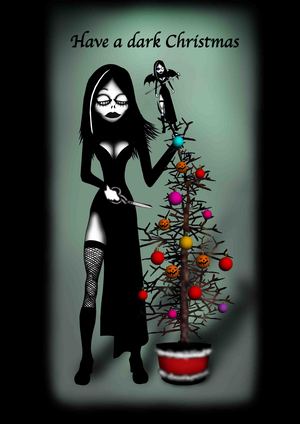 However, despite all of the negative Christmas shite that does the head in of most of the Goth collective, few of us manage to escape the festive season entirely, and in my opinion the best way to deal with things is to go by the principle of "If you can't beat 'em, join 'em." Only in a Goth way, obviously.Mooky chick's skull on the top of the tree is a good start!
One of the coolest ways (if this is not an oxymoron) to deal with Christmas from the Goth perspective is by making and buying custom Goth ornaments, and decorating your tree and whatever else you do with a Goth theme. You can be as lazy or as proactive about this as you like- the former simply requires leaving your Halloween festoons up until January, but if you're of a creative bent, you can really go to town.
Here are my collated suggestions for making your own Goth Christmas decos, plus some of my favourites from other people.
The lazy end
If you're not overly keen on glue and glitter and making things from scratch, you can still Goth up your Christmas with very little effort. Get yourself a black Christmas tree, or decorate your real tree with black and silver tinsel and glitter, and maybe a few fake cobwebs too.
Easy.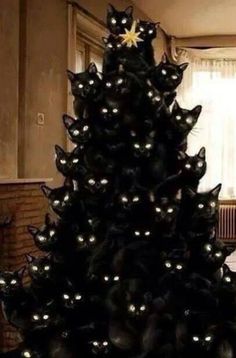 Not so easy.
Customised baubles
Big, clear baubles that you can put small items into seem to be a thing at the moment, and this offers plenty of room for customisation with little effort. Stock up on things like black feathers, Halloween confetti and small bones (such as you would pick out of a cooked chicken- wash before use, obviously, unless you want to really commit to the theme with decayingscented theme too) and stick these into your clear baubles. Simple!
For more bauble ideas, this Buzzfeed post is a good start, and I particularly love the Day of the Dead skulls, and you should too.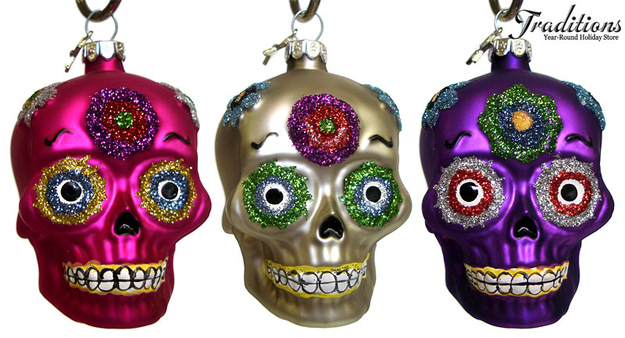 Fimo and clay
If you're not familiar with Fimo, the information I am about to give you will seriously impact upon your free time and bank balance both. Fimo is coloured, easy to use modelling clay that you bake in the oven, and using this, you can make all kinds of funky things, such as bats, pumpkins and much more.
Check out The Everyday Goth for more suggestions, as well as this Pinterest board too!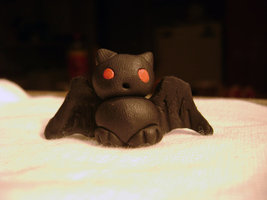 Cheaters look here…
If you really CBA with the DIY, let someone else do the hard work for you, and invest some of your hard-earned bucks in the fruits of their labours. Etsy should be your first stop, with an impressive selection of Gothic Christmas ornaments in their curated collection, here.
How awesome is your Goth Christmas tree? Send me a picture.