It's starting to get cold, which is cause for celebration among those of us who greatly prefer layering up and leaving our leg hair to do what comes naturally rather than rocking the most minimalist of summer frocks. If your winter wardrobe is looking a bit patchy or you're looking for an excuse to drop some cash on a new look, check out some of my tips on the coolest and most wearable Goth fashion for the coming season.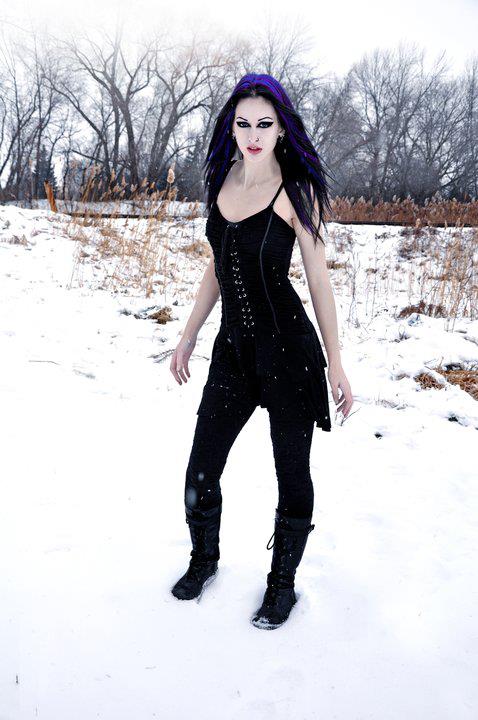 She's got to be cold…
Invest in a few good quality pieces such as boots and a coat to keep you going for a few winters to come, and then accessorise with some basics and fun pieces that you can mix and match. Layering never goes out of fashion in Goth circles, and a few basic scarves and pairs of stockings and leggings can give you infinite variety over the colder months, without breaking the bank! Check out this Goth Winter and Fall Pinterest board for some more ideas.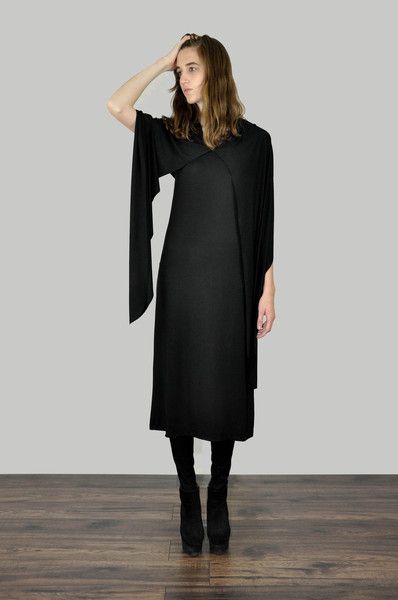 The one coat you need this winter
High-waisted a-line flared coats are both timeless and on trend, and this fitted black velvet "Rodin" coat by Spin Doctor fits neatly into both Goth and Steampunk styling.
For the boys, check out your local army surplus stores, market stalls and second hand shops to hook yourself up with a heavy barathea or serge wool coat with plenty of room underneath for all of your jumpers!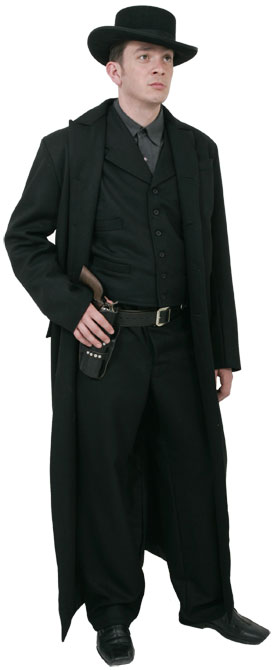 Gun optional…

Gothic Charm School also has some thoughts worth reading on winter fashion for Goths, including how to pick the perfect coat.
Boots
You can never have too many pairs of shit-kickers, but if you're on the lookout for boots for everyday wear during the winter, you'll want them to be comfortable, waterproof and have the kind of sole that at least has a fighting chance of keeping you upright when walking on slush and ice.
Go for a platform rather than a heel, and something with a deep tread and flex in the ankle, such as these military-style knee length leather boots from Demonia, or these gorgeous glossy burgundy Rocky ankle length lace-ups. Shiny!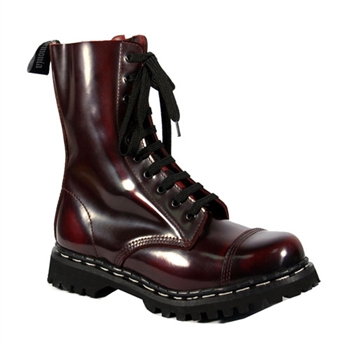 Leggings and stockings
Don't piss about with sheer nylon when the weather is cold; rock out those stripy tights and businesslike leggings to keep you warm and comfortable. These Pamela Mann stockings in trad Goth black and purple are a winter wardrobe essential, or for a more punk-facing look, try out these 40 denier denim print tights.
Go homemade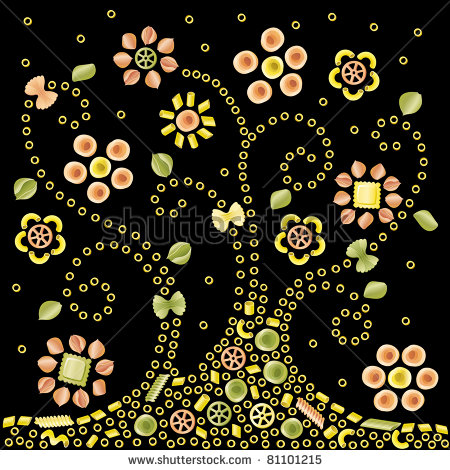 Pasta art optional…
It is well worth investing some money in the big basics that will keep you going for several seasons without falling apart, but when it comes to accessories and smaller pieces, it's a great idea to buy or make cheap statement pieces and customise them to suit your look.
Basic plain scarves, t shirts and shawls can be picked up on the cheap from a whole range of retailers, and with just some basic blinging up with badges, brooches or fabric pens, can make a feature out of the simplest item.
Stripy Tights and Dark Delights has plenty of tips for the budding DIY fashionista, here!